Timote Georges is an agronomist, and Co-founder and Country Director for Haiti, with Smallholder Farmers Alliance.
Born in Haiti in 1978, Timote Georges grew up on a farm. He studied agronomy at the United Nations-mandated University for Peace in Costa Rica, because he wanted to provide support to farmers like his father who worked hard but had no technology to help them. Timote has worked on geoengineering (carbon sequestration), literacy, and alleviating socio-economic deprivation. Since 2008 he's been concentrating on the developmental community level in Haiti with environmental rehabilitation and resource management.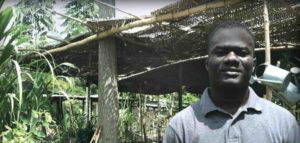 In 2010 Timote cofounded Smallholder Farmers Alliance, which is a grass-roots organization dedicated to restoring tree cover and improving out-of-date farming techniques in Haiti. Today SFA boasts over 2,000 members, some of whom have increased crop yields by as much as 50%. They have created 8 tree nurseries, planted 2.2 million trees, and created agroforestry cooperatives. SFA became an independent NGO in 2012 and began working with the Clinton Foundation to expand cooperatives in Haiti.
Timote lives with his wife and son and works tirelessly to get things done. Thank you, Timote, for caring so deeply and making such a difference for so many!