We love working with people and sharing ideas together. We are often inspired by the work of those we collaborate with. Hear about some of the lovely people we have had the pleasure to work with!
Agroforestry in the Dominican Republic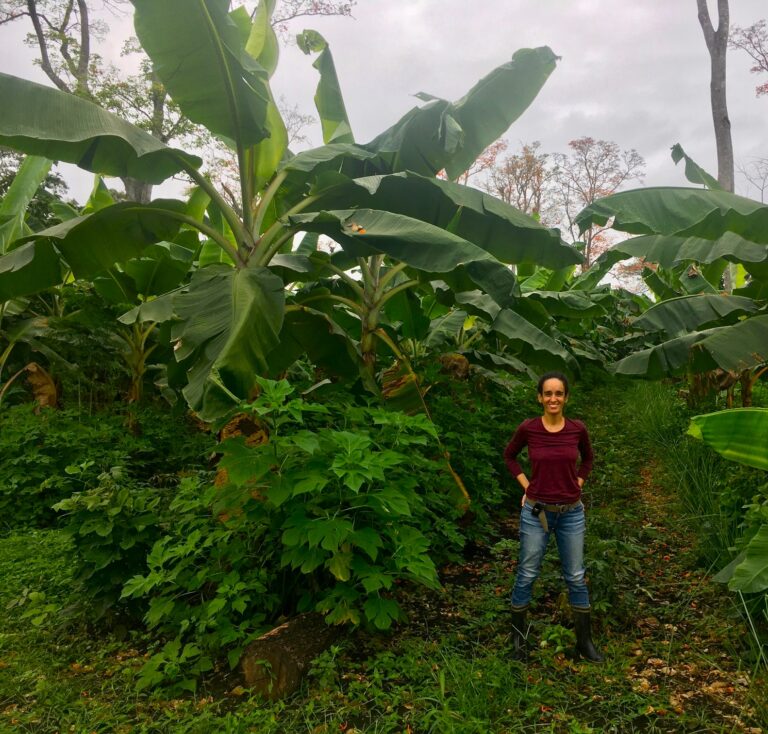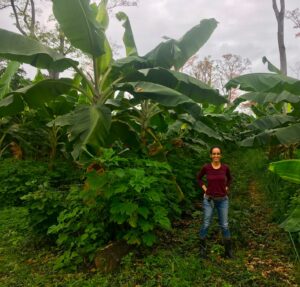 In La Vega province of the Dominican Republic lies La Finca Tierra Negra (LFTN), a unique, organic family farm run by Altair Rodriguez, a former human rights lawyer turned agroforestry aficionado.

What began as a small plot of land became one of the most important cacao farms in the area in the early 20th century. In the 1940s, however, Altair's great grandfather left the country as a political exile after organizing the fight against the dictatorship. He died in exile, but his family recovered the farm in the 1960s. In the 1980s, a decline in the global cacao market led to a more conventional agricultural system with cassava and plantain monocrops. Seven years ago, Altair set her sights on rebuilding an ecological agroforestry system, which is much more resilient, abundant, and economically sound.

As she said, her goal is "to turn it into a model farm that motivates farmers to shift from growing annuals and monocrops that are gradually degenerating and killing our soil to agroforestry systems that improve biodiversity and regenerate our soil, incorporating trees with all of their benefits and making it economically viable."

Breadfruit trees are among Altair's biodiverse plant system. She has planted around 400 breadfruit seedlings since 2018. Earlier this year, TTFF provided her with 100 more. We also connected her with an environmentalist named Ansermo Uceta, who is doing community reforestation work in Northwest Dominican Republic. Altair generously transported 379 other breadfruit saplings to Ansermo and 300 families living in nine communities in the municipality of Villa los Almacigos in the Santiago Rodriguez Province.

Breadfruit is growing in popularity with farmers in the Dominican Republic, who use it to shade cacao, which is the second most highly exported product in the country. This is thanks to people like Altair and Ansermo who are spreading the word that breadfruit is an amazing tree to incorporate into agroforestry.

During her transition between law and agriculture, Altair heard a professor say that only industrial farming can feed the world. She knew it then, and she'll say it again now with much more experience under her belt. "We can feed the world WITHOUT destroying the planet!"
Something Country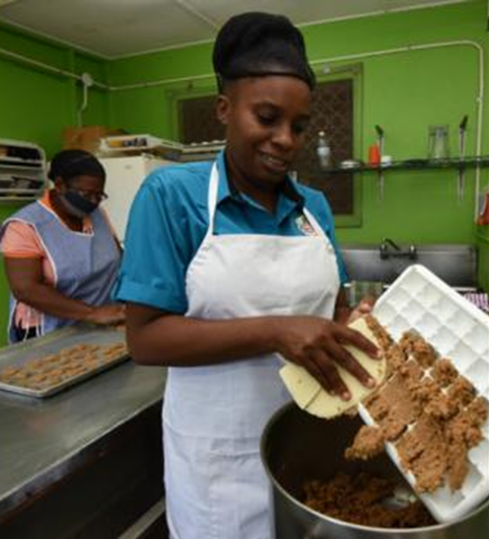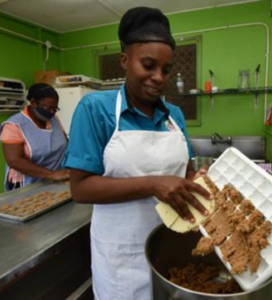 Karleen Johnson was a young teacher at a school in rural Jamaica when we met her in 2015. We had received a grant from Rotary to plant breadfruit trees at schools. She immediately saw the benefits of our mission and became a strong advocate for tree planting. Within a few years, she went from planting trees, to making breadfruit flour, to starting her own business. Something Country is a bakery located in Kitson Town, in the parish of St. Catherine, Jamaica. Many of her tasty products, including cookies and bullas, which are like biscotti, are based on breadfruit flour.
Karlene is creating wealth from trees! This wealth stays in her rural community, alleviating poverty. Karlene buys breadfruit flour from the processing center at her old school. The fruit that makes the flour comes from local farmers. She employs local people and sells in local shops.
The 39-year-old, who holds a Bachelor of Arts degree in Literatures in English, has followed her passion to utilize fruits and vegetables to make wholesome treats. Karlene values food security, tree conservation and wholesome living.

In April 2021, the largest newspaper in Jamaica featured Karlene. You can listen to her story in her own words at https://tinyurl.com/SomethingCountry. We are proud to hear her say that we were pivotal in getting her involved in the production of breadfruit. This partnership is one of many whose work was sparked by TTFF, and which has flourished into a lasting legacy for her family and community.

Trees in Belize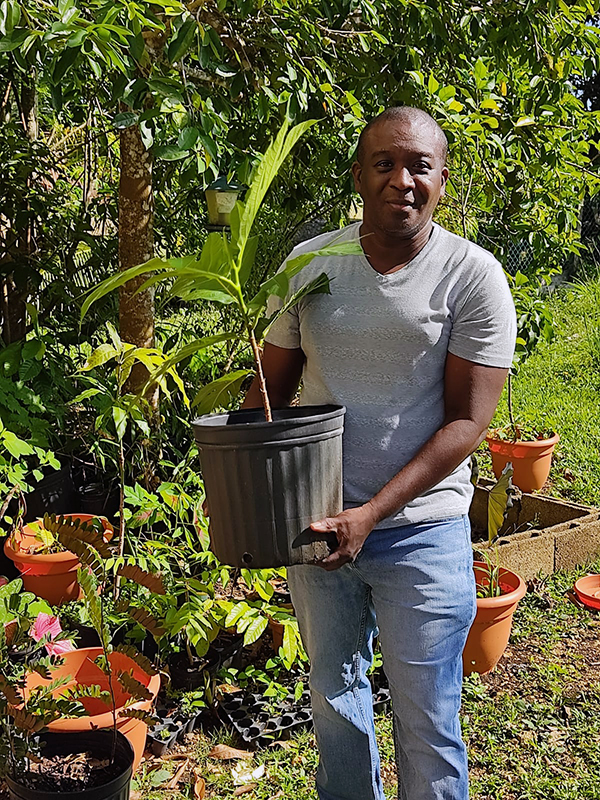 In Belize, our contact John Arana has been doing excellent work! In February 2021 we sent a tree shipment and John nurtured the trees in his "plant ICU" setup. The trees sent to Belize were smaller than we typically send due to COVID shortages, and a portion did not survive the voyage. Thanks to John's efforts, roughly 60% of the trees were able to survive and are now strong and healthy. We are so grateful to John for his green-thumb!
Effort Vision
Effort Vision, a religious outreach group, is doing a wonderful job in Haiti.  They are emulating TTFF's approach to sustainable agroforestry.   Check out the excellent report by John Ashford and his team on their breadfruit flour making project. John Baynes working on the breadfruit peeler
Effort Vision  was formed in 2007 as a program to enable and equip individuals and families to provide for themselves.  The focus is both spiritual and economic through a revolving, interest free loan program which funds small, individual, business projects.  The vision extends to include occupational training, as you will see!
Thanks from Effort Vision!
Dear Mike & Mary – What a blessing it has been to be able to have the connection of your organization and to be able to join hands in the breadfruit journey.  We just returned from Haiti and were able to see first hand all that is being carried out.  And also, the changes and updates of equipment etc. that need to be made.  James has many aspirations of what could take place in the future.
First, I will give you a little better idea of what they are doing in Haiti.  Two and sometimes three of the women that are working with James prepare banana cake (they have also come up with a recipe of their own "rum cake") at least 3-4 times a week.  They earn US$6.00 per cake.  The breadfruit is providing so much—nutritious food processed right in Haiti along with income for the Haitians that prepare it.
Thank you again for all that you do!
John & Dawn Ashford
Effort Vision, Haiti
Learn more about the Effort Vision story here
---
Women with a Mission
Lise Bouffard and her partner Denise Walter work with Manchester Women's Organization in rural Jamaica. This is a group of like-minded women focusing on food security for their community. Trees That Feed Foundation has provided them with 100 assorted fruit trees: naseberry, jack fruit, sour sop, guava, breadfruit, cashew, apple, tamarind, June plum, and chocolate. Lise and Denise went to Denbigh on May 10, 2016, with great excitement to pick up the trees. In the Manchester community of Green Pond a young agronomist demonstrated how to plant trees and stressed the importance of using natural fertilizers.
Communities they serve are challenged with many issues including poverty, climate change, inadequate water supply, and poor nutrition. One of Lise's efforts is in helping Pastor Allen of the Open Bible Church prepare nutritious breakfasts for 20-30 hungry children three days each week. The children and their parents need education to understand the importance of good nutrition. Lise wants to encourage breastfeeding, as only 23% of new mothers currently breastfeed. The connection between nutrition and school performance is clear. Two years ago only 25% of fourth graders passed the standard literacy and numeracy exams. Eating empty calories does not feed the brain!
Lise sent this photo of Dawn Samuels showing the cherry tree TTFF donated 2 years ago growing on her little piece of land. Since her husband's death, Dawn has started a backyard garden to "grow what we eat and eat what we grow."
We are so glad to have connected with Lise and look forward to working together!
---
From Sydney Pagon Agricultural School, St. Elizabeth, Jamaica: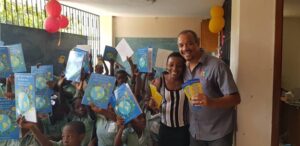 "When we saw the [TTFF school activity] book, my husband thought it was a gift from God because it matches so well with a program he has that is called "Manje'l Plante'l", it encourages specialty kids to plant the seeds of whatever it is that they eat. That's what our program is based on." – Stephanie Rigaud, Kako's Kids
---
Click here to learn about our 2019 Short Story competition!