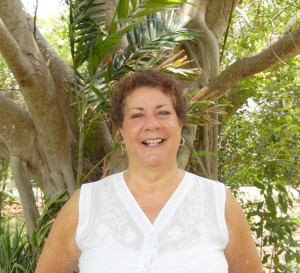 Sandra Myers is our hero extraordinare in Barbados! Representing Trees That Feed Foundation, Sandra is collaborating with Sandals Foundation and the Ministry of Education in Barbados on an education project that will eventually reach 105 schools. As part of Earth Day 2015, Sandra and 20 Sandals volunteers launched the project in three schools where theyplanted food-bearing trees and engaged students and teachers in helping the environment. Students were thrilled to get their hands dirty!
Sandra grew up with her older sister in Kingston, Jamaica. After attending the University of the West Indies, she relocated to Barbados in 1996 for a one-year contract that turned permanent. She worked in human resources, consulting and traveling to Dutch and English speaking countries in the Caribbean. Her workshops focused on strategic planning, performance management and staff morale improvement.
When Sandra retired, her volunteer career began. She works with the Caribbean Permaculture Research Institute (CPRI), which focuses on sustainability and is an education and demonstration center for Barbados. CPRI's purpose is to meet the needs of humanity while benefiting the environment, aligning closely with TTFF's mission.
While growing up in Jamaica, Sandra and Mary McLaughlin met as students attending St. Andrew's High School for Girls. When they reconnected a few years ago, a new partnership was born. TTFF gained a tireless hero, and Sandra now drives to work with a huge smile on her face, doing something that makes her feel good every day! Thank you, Sandra!