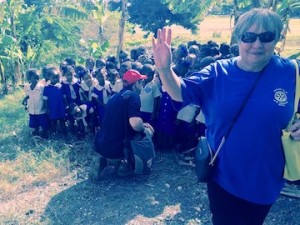 Mrs. Cathy Henry is spearheading Trees That Feed in Schools (TTFIS), the flagship partnership program between Trees That Feed Foundation and Rotary. Through TTFIS, Trees That Feed, Rotary and the Jamaican Government have come together to place food-bearing trees in Jamaica's schools. Thousands of students across the island will have access to nutritious, sustainable food sources due to Cathy's leadership and passion. We can't thank you enough, Cathy!
Cathy was born in Winnipeg, Canada and is a member of St. Catherine's South Rotary Club in Ontario. She spent her career as a nurse and is married to Dr. David Henry. They have two children and four grandchildren. Cathy lived in Jamaica for over five years and saw firsthand the island-wide poverty and hunger. Upon reflection of her own family's blessings, Cathy wanted to assist those less fortunate. Rotary's mandate of "Service Above Self" and presence in over 170 countries inspired Cathy to help build and lead the TTFIS program. Cathy travels throughout Jamaica and to various Rotary clubs in Southern Ontario to talk about breadfruit, meet new people, form partnerships and build awareness about the global scourge of hunger and poverty.
The program has grown to now have Rotary International on board. Cathy hopes that other Rotary Clubs worldwide will be able to learn from the TTFIS' method of distributing food-bearing trees in Jamaica and will adapt the program to the needs of their respective countries. The TTFIS program and Cathy's influence is teaching all of us how a simple, inexpensive tree can grow to form a sustainable way of alleviating hunger and poverty worldwide. Thank you again, Cathy, for all that you are doing!