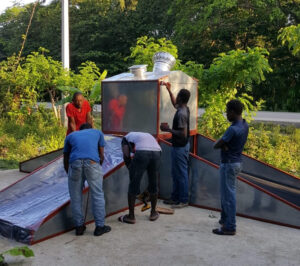 Undergraduate students of the Design Thinking and Communications Program at Northwestern University's McCormick School of Engineering and Applied Science put their brains (and hands) to work for TTFF.
Four teams of freshmen set out to answer a question from TTFF co-founder Mike McLaughlin, "How can we make the breadfruit drying process easier for entrepreneurs?" This project continues a collaboration with the University that started way back in 2014.  Back then, Mike worked with McCormick upperclassmen to design the hybrid solar dehydrator that is now being used in Jamaica, Haiti, and Uganda.
To explore improvements in the breadfruit flour making process, the students spoke with current users of the dehydrator. They interviewed Pierre-Moise Louis of Jeremie Breadfruit Flour and Nursery in Haiti, Ms. Jheannel Williams of the Rural Agricultural Development Authority in Jamaica, and Ms. Nicola Shirley-Phillips of Source Farms in Jamaica.
The creators of the Refruiterator devised a cooling chamber with stackable frames. Cooling is achieved without electricity by evaporative transpiration from within a cinder block frame. Cooling extends the shelf life of fresh breadfruit beyond three days for subsequent processing.

Refruiterator

The Aeroflect team proposed two modifications to the hybrid solar dehydrator. They used dividers and ramps inside the solar collector modules to create channels for more even airflow and more uniform food dehydration. And they added mirrors to reflect the sunlight into the dryer to increase the temperature of the air.

Aeroflect

The team creating the MeshMate addressed the issues users described with the drying racks. The MeshMate consists of five stacking trays and a lid. It facilitates transportation of breadfruit shreds for loading and unloading of the hybrid solar dryer.

MeshMate

The AirMesh Tray sandwiches the fruit in between two layers of food-grade mesh, allowing the user to flip the tray over during the drying process creating a more even dehydration. Additionally, two halves allow for the trays to be shaken or agitated during the drying process without losing product.

AirMesh Tray
The teams excelled not only in their creativity but their success in reflecting user input in their designs.  TTFF plans additional field testing with full scale prototypes.
Professor Stacy Benjamin, who taught the course along with Professor Shuwen Li, delivered the students' design prototypes to TTFF. Our office was filled with a flurry of excitement and brainstorming about new projects for students in the coming years! We're grateful for the partnership and thrilled by the students' interest in our mission.
To read an article about this on Northwestern.edu, click here.