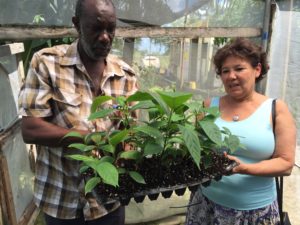 Mary and Mike McLaughlin, co-founders of Trees That Feed Foundation, recently returned from a very productive trip to Jamaica.  The main purpose of the trip was to increase production and utilization of breadfruit flour.  Breadfruit is a delicious, nutritious fruit, likened to a potato grown on a tree.  Initially brought to the Caribbean from the Pacific area, breadfruit is now a staple food in Jamaica and all across the Caribbean.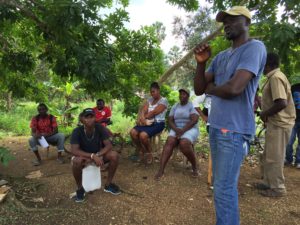 They transported down "Factory in a Box" (FIB) kits, which include shredders, grinders, drying racks and accessories. The Williamsfield Farmers' Cooperation and Empowerment Club will work with the equipment. They are located in an area of the parish of St. Elizabeth where employment opportunities are limited, but there's plenty of breadfruit.  Mary and Mike, along with local representatives, met with club leadership to explain the process of breadfruit flour making, from beginning to end – from care of the trees all the way to marketing the finished product. The group is enthusiastic about the possibilities! In related news, three FIB kits have also recently been sent to farmer groups in Haiti.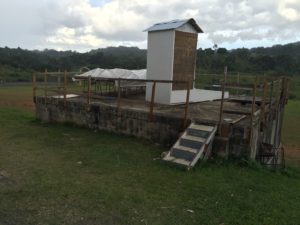 Back to Jamaica: Mary and Mike visited Tacius Golding High School, previous recipient of a FIB kit.  They have used their equipment to produce over 200 pounds of breadfruit flour. In fact, they've already outgrown the original equipment and are building a scaled-up factory, using two large metal shipping containers. Still under construction, this factory will have large capacity within a few months.
In addition to production, TTFF is working to disseminate information and build demand for breadfruit flour. Mary and Mike met with the CEO of a large supermarket chain and a leading French bakery, and both expressed keen interest. We put these potential users in contact with Diamond Ridge Processors, the leading producer of breadfruit flour in Jamaica.
Mary and Mike also met with staff at Jamaica's Ministry of Education (MoE). The Government is developing a new program for school gardens, to function as a food supply source and to teach agriculture. The MoE is publishing a bulletin to enlist school principals in the pilot, which is scheduled for rollout at the beginning of next school year. TTFF will assist in creating the program and will provide fruit trees to a number of schools. 
They then toured the Eltham Gardens nursery, where Mr. Joseph Johnson propagates and sells thousands of plants and trees of many varieties, including, of course, breadfruit. New mango varieties donated by Fairchild Botanic Garden in Miami, Florida, are being grafted there. Mr. Johnson has come on board with TTFF as our local representative, with duties including monitoring and advising on trees and equipment donated to Jamaican groups.
And finally, Mary and Mike visited with Phyllis Coates-Beckford, a retired professor from the University of the West Indies. Dr. Coates-Beckford has done pioneering work on maintaining and improving soil quality. She demonstrated how to rehabilitate breadfruit and other crops that suffered from soil-borne diseases and pests – important work that is very relevant to larger-scale planting of breadfruit trees.
This very productive trip was unfortunately cut short by the approach of Hurricane Matthew, but  another visit will be planned soon!