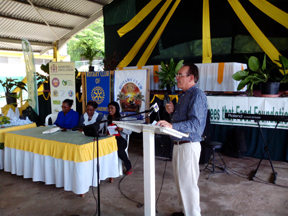 Trees That Feed Foundation isexcited to announce the launch of our school-feeding program, Trees That Feed in Schools, an initiative built in partnership with the Jamaican Government and Rotary!
The program kicked off last Friday at Ocho Rios High School in Jamaica.Thousands of breadfruit trees will be distributed to schools islandwide over the coming months to help fight hunger and boost feeding programs for students.
Education Minister Ronald Thwaites, hails the program:
"Planting trees is healthy for the environment and is a positive contribution to future generations. In addition, the planting of breadfruit trees, in particular, has the benefit of increasing food supplies for the Jamaican population while promoting national food security," he noted.