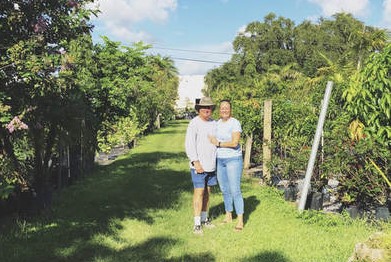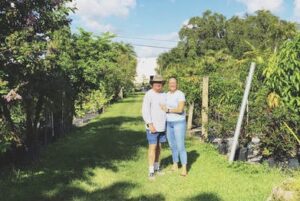 Steve Herndon is the founder and proprietor of the Hidden Acres Mango Farm, a family-owned and operated business in southeast Florida.
He grows over 30 varieties of mangoes, as well as other tropical fruits including: breadfruit, avocado, carambola (star fruit), jackfruit, jaboticaba, mamey, and soursop.
Steve uses modern technology for pruning and harvesting to ensure maximum production, and he generously shares his expertise and even some of his profits with Trees That Feed Foundation.
Steve has sold breadfruit trees and donated mango scions to TTFF for trees distributed in Barbados, Saba, and the Bahamas. Scions are young shoots of a plant used for grafting, one method of propagation.
Hidden Acres has hosted and trained both Bahamian and Haitian farmers in tree growing and grafting. Steve's wife Mia taught one of our Haitian partners how to make breadfruit chips.
Steve is always there to support Trees That Feed, and we value his many contributions!
We're grateful to TTFF board member extraordinaire Dr. Ken Banks for introducing us to him!
Click here to watch an informative and inspiring interview with Mr. Herndon and Dr. Banks.