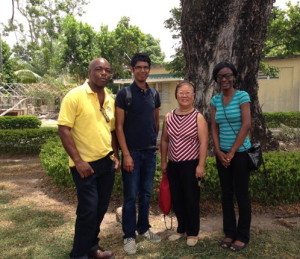 Mr. Locksley Waites has distributed more than 6,000 treesfor Trees That Feed Foundation! He is the project coordinator and tree crop agronomist for the Rural Agricultural Development Authority (RADA) in Jamaica. Pictured here on the far left, with TTFF board member Cathy Lyn and University of Minnesota students Randi De Mel and Afia Adaboh, Mr. Waites is on a quest to plant fruit trees that reap economic benefits to individuals as well as his country.
RADA and the Ministry of Agriculture and Fisheries started working together in 2000 to assist farmers in Jamaica with planting fruit trees, with RADA serving as the implementing agency. Trees distributed from this alliance feed people and provide an export market, while also helping with soil conservation.
Born and raised in Jamaica, Mr. Waites has four sons. He has partnered with TTFF from the very beginning in December 2009. Mr. Waites has been invaluable orchestrating tree distributions in Jamaica and coordinating the people who make it all work. Thank you, Locksley!