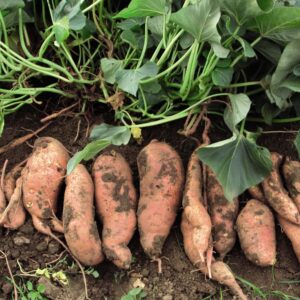 Today, Renaud Thomas arrived in Jeremie, Haiti with a truck loaded with 200,000 sweet potato plants. These plants will be distributed to several farmer groups in areas hit hardest by Hurricane Matthew. Mary McLaughlin, TTFF Chair, has been concerned about lack of food in these areas when the emergency relief efforts tail off. TTFF usually distributes food-bearing trees, but we need to supply faster growing crops in response to the hurricane to more quickly provide food sources. We've already provided thousands of seeds to plant carrots, tomatoes, and many other vegetables. But starchy root crops like potatoes, yams and cassava are full of calories and nutrients and will help reduce hunger within two or three months.
As we write this, the truck has just navigated several hours of rough, difficult mountain roads between the town of Les Cayes and Jeremie. This success is the culmination of relentless effort between Mary and our working partners in Haiti.
TTFF has collaborated with Women & Children's Hope Foundation (WCHF) and Farmers of Timo, two organizations on the ground in Haiti. Farmers of Timo provided the sweet potato plants, which are ready to go into the ground. WCHF has provided half of the funding for labor and transportation, and TTFF has provided the other half. This funding originally came in for hurricane relief from generous TTFF donors.