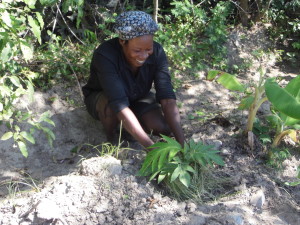 Trees That Feed Foundation recently received a grant from The Conservation, Food & Health Foundation to facilitate a new fruit tree propagation program in the Caribbean, and we couldn't be more excited about it!
Sustainability is a priority of Trees That Feed's. Amongst multiple elements of our mission, we work to help individuals learn how to propagate their own fruit trees to ultimately achieve food independence. This new program will be doing exactly that.
Through the program, a group of Haitian farmers will travel with TTFF to Jamaica in Fall 2015 to learn fruit tree propagation techniques from The College of Agriculture, Science and Education (CASE) experts, Jamaican agriculturalists and nurserymen. Following the trip, TTFF will work with Haitian trip participants and partners to implement the training techniques learned during the visit to Jamaica. This program will build internal capabilities in Haiti to locally source food-bearing trees, thereby increasing food supply, market input, jobs and environmental restoration.
Join us with this new initiative! If you would like to contribute to this program,please donate here.
Stay tuned for more updates!