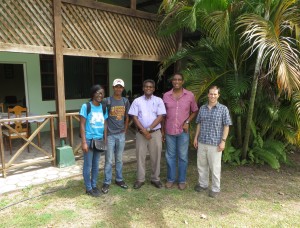 June 25th, 2014. Randi and Afia, two graduate students from the University of Minnesota's Humphrey School of Public Affairs, are in their third week of their TTFF summer fieldwork project in Jamaica. They continue to travel throughout the country,meeting with farmers, gathering data and geo-tagging TTFF trees. They are finding that TTFF breadfruit trees are thriving and many farmers have developed various plans for the use of the breadfruit, including processing breadfruit flour to make food products, making sales to exporters and feeding farm staff.
After multiple farm visits last week, the next stop for Randi and Afia was meeting with the Jeffrey Town Farmers Association (JTFA) to interview Mr. Wordsworth Gordon and Ms. Ivy Gordon, the president and secretary of JTFA. The Gordons offered valuable insights on commercialization of Jamaican farm produce and how agriculture in Jamaica can be improved.
We are thrilled to share an additional, exciting update about Randi and Afia's work:They were selected to present at Columbia University's 2014 International Conference on Sustainable Development Practice in New York City in September. They will be presenting about TTFF and our work to increase food security. Congratulations, Randi and Afia! We are proud of you.
We will continue to keep you posted on Randi and Afia's progress!