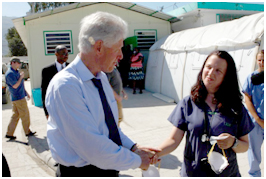 June 6th, 2014. During our trip to Haiti, we reached out to the local TB/AIDS hospital that receives breadfruit flour from TTFF. This flour is produced locally, contains many nutrients and has a very long shelf-life. The flour is made into a porridge, which is easily digestible for patients. Below is a clip of an email from Dr. Megan Coffee, the well-known doctor who runs the hospital:
"The breadfruit flour has been a real help. We use it to supply three meals a day for 50+ patients and their families, as well as to provide supplemental food for hundreds of outpatients. I would say we only want more breadfruit. Currently we do not have an inpatient ward, but we continue to follow outpatients who have been using this flour. Many of our patients arrive as adults weighing 20-30kg, many not more than 50lbs. Any nutrition they liked was – and is – important."
We are very happy to be able to support Dr. Coffee's work and the patients at her hospital. We are excited to continue planting trees and using fruit to produce breadfruit flour!