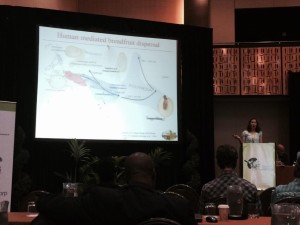 Trees That Feed is excited to be hosting its second board meeting of the year this week! Board members will convene in Chicagoland to discuss 2015 progress, programming and future planning.
Have you met our board? We are proud of our board members. With varying backgrounds and areas of expertise, members are committed to ensuring the success of Trees That Feed Foundation's mission and providing sustainable food sources to communities and families. Learn about our board members here.
A recent board highlight of TTFF's is our participation in the 2015 International Breadfruit Conference. Here is Dr. Nyree Zerega, Director of the Graduate Program in Plant Biology and Conservation at Northwestern University and Trees That Feed Foundation board member, presenting about breadfruit genetic diversity.