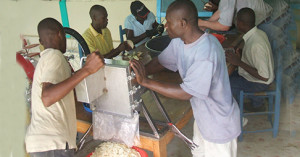 Trees That Feed Foundation enjoys sharing knowledge. We hope you will refer to this page and find helpful information. We want to pass along the knowledge and processes we have built with experts in areas such as tree propagation, tree care and food production.
Explore our website and check out the list of resources below.  And if there's something you need that you can't find, feel free to Contact Us or email to info@treesthatfeed.org. We'll help in any way we can.  
Informational Links:
How to Plant a Breadfruit Tree
Breadfruit Propagation & Production, courtesy of CASE, Jamaica
Good Things Happen When You Plant Trees (a general guide)
Root Culture Propagation of Breadfruit (Video)
Stem Cutting Propagation of Breadfruit
TTFF is constantly developing additional training materials and resources in various formats: text, pictures, audio and video. Visit Our youtube page for video tutorials, and check out or website for additional information. Contact us with any questions!