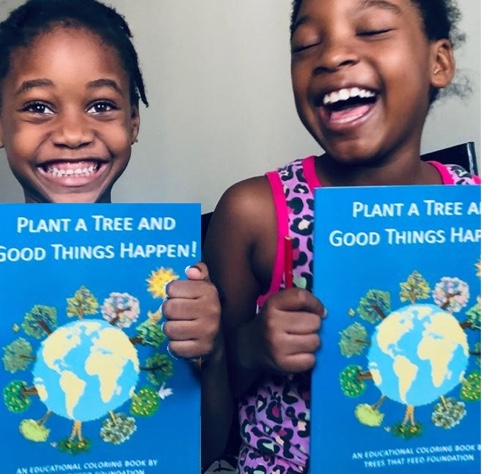 https://www.treesthatfeed.org/programs/education/coloring-book/
Trees That Feed Foundation, working with our volunteers, created an educational coloring book that has become quite popular.  The book has attractive pictures to color and easy interactive exercises to teach the benefits of planting trees.
The coloring book is designed to teach children the value of planting trees and caring for the environment. It presents an educational narrative about the food we eat, the air we breathe and the planet we inhabit. A corresponding teacher's guide is available for use in the classroom. The book has 40 beautiful pages to color.
We have four editions currently that are widely available:  English; Haiti's trilingual version, focused on Creole, with French and English subtitles; Spanish; and now in Swahili. These are all available on Amazon.  Other versions are locally available including Cambodian, Indonesian, Balinese, Tahitian and Zambian, thanks to our enthusiastic team of volunteers.