Charles Weber (Chuck) is the President of Weber & Associates Public Relations. He is also a retired public relations manager from Abbott Laboratories and a professor in the Communications Department at the University of Wisconsin Whitewater. As if that's not enough to keep him busy, he is our hero volunteer helping to create a buzz in the marketplace about breadfruit! Chuck is TTFF's most active proponent of breadfruit and its potential to solve hunger issues. He has enlisted students at Whitewater to create a social media plan, drawing the attention of major news outlets including USA Today and National Geographic.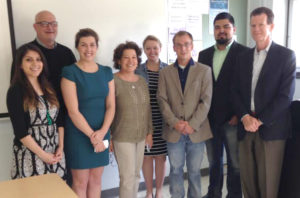 Chuck started in public relations as press secretary for the Illinois State Treasurer's office. He then moved on to Abbott working in corporate public affairs and managing public relations. As a consultant, he's worked for: Abbott, American Pain Society, National Association for Healthcare Quality, American College of Foot and Ankle Surgeons, National Alliance for the Mentally Ill, and Siemens. He lives with his wife Angela in Whitewater, Wisconsin. They have four grown children and just celebrated their 31st wedding anniversary.
"The best prize life offers is the chance to work hard at work worth doing." This Theodore Roosevelt quote on Weber & Associates' website perfectly sums up our hero. Thank you, Chuck!