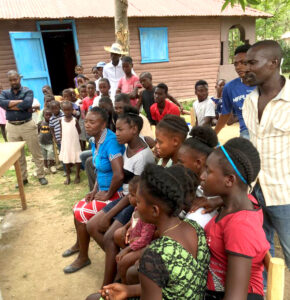 The town of Pignon in Haiti is located in the central plateau region.  The nearest large towns are Hinche and Mirebalais.  Our working partner Roger Gietzen has been assisting folks in this town for two years.   They have access to breadfruit but it's been underutilized.  Roger suggested we organize a one-day cooking school.
We contacted our friends at Effort Vision to supply a batch of breadfruit flour.  John Ashford and his wife Dawn have been working in the nearby town of Montrouis for several years.  TTFF helped them to establish a breadfruit flour factory and they've become quite successful producing and selling products locally.  John agreed to provide the flour and transportation for attendees to the school.
Everything was set for April 20.  The truck was fixed just in time and all arrangements were in place.  Our instructor was James Charles, who runs Effort Vision operations under the leadership of Pastor Emmanus, who we have mentioned before.   James is a good guy who received training from TTFF and is now passing on his knowledge to others.
On the big day the crowd of approximately 40 people hiked down a mountain trail.  The fire was stoked and equipment was set up.  The batter commenced to being stirred!  Everyone paid close attention to the demonstrations and the various recipes.  You can see from the pictures.   Graduation consisted of sampling the tasty treats!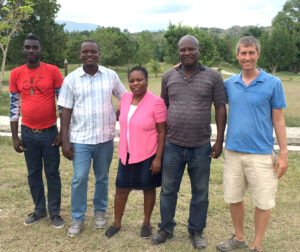 Big thanks to Roger, John, Dawn, James, Pastor Emmanus and all who helped.  TTFF assisted with funding and organizing.
This is a great example of how to help Haiti. We at TTFF help them to get started with a factory, getting organized, showing the way.  But then we want Haitians to help Haiti.  We're delighted at the success of this cooking school.   And it's also a great example of how partnering should work.  Trees That Feed and two other organizations collaborated generously to everyone's success.