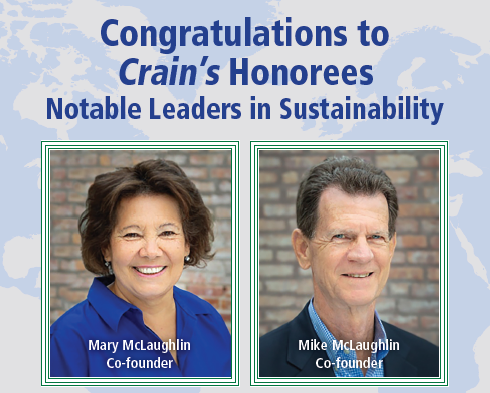 Crain's has named Trees That Feed Foundation Co-founders Mary and Mike McLaughlin "Notable Leaders in Sustainability!"
The honor is bestowed upon individuals in Chicagoland who have made a measurable environmental impact in the past year. Crain's is Chicago's leading news magazine, read by leading corporate and nonprofit executives. This week's issue appears on Monday June 27, 2022.
Among other 2021 accomplishments, Mary and Mike planted 61,381 trees. And not just any trees. They choose the types that capture the most carbon while also bearing fruit!
One mature breadfruit tree absorbs approximately 1.3 tons of carbon, effectively combatting climate change. Additionally, breadfruit trees do not need pesticides and they can be incorporated easily into agroforests, which replenish, rather than deplete, soil nutrients.
Of course, we know that these fruit trees are also feeding people and creating jobs. So, for Trees That Feed Foundation, sustainability applies not only to the environment … it's permanent. Trees That Feed beneficiaries become self-sufficient.
Mary and Mike accept this award with pride, but even more so with gratitude for the supporters of TTFF who make all their work possible.
Click here to see Mary and Mike mentioned in Crain's Chicago Business. (Full details available to subscribers.)