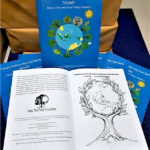 Thanks to our volunteer Michael Morrissey,  300 copies of the Trees That Feed Foundation coloring book are today on the way by courier to the kampung of Taram in the province of West Sumatra.  Thanks also go to Muhamad Hatta Havis, a graduate of one of the schools, for translating!  Thanks also to sama sama, the Jamaica-Indonesia programme for its support!
This is the first Indonesian edition of this wonderful book that teaches the value of fruit trees, with special mention given to the breadfruit, sukun!  Children of two early childhood centres and five primary schools of the village will gather with their teachers to receive their own book and a set of crayons. The teachers will receive a teachers' guide to maximize value of the book in the curriculum.
Our TTFF coloring book is now in 5 versions … English, Haitian Creole, Spanish, Bahasa (Indonesian) and Swahili!  Over 8,000 have been distributed to schools!  Order a copy now on Amazon!