Our newest hero, or is that heroine, has shepherded 500 Ma'afala breadfruit trees to Jinja, Uganda. Her journey was epic.
Kathy Johnson is quite a lady! She is a flight attendant with American Airlines. And she's been a donor to Trees That Feed for years.  In a phone call with Mary McLaughlin, our founder, Kathy volunteered to take extra luggage on a personal trip to Uganda. By the way Kathy has been there before! She helps schools in Uganda and adopted several children who are now educated and successful adults.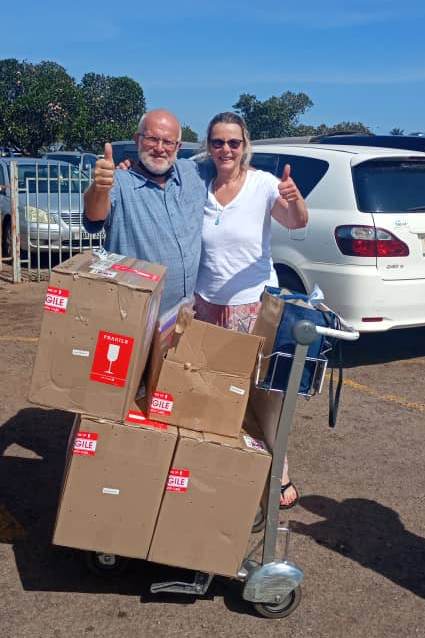 Kathy flew to Los Angeles to collect four large boxes from Karin Bolczyk, our supplier. The boxes contained over 500 small tree saplings. Kathy then flew to Chicago to meet Mary and Mike, then to Entebbe, Uganda's international airport, via New York and Addis Ababa.   36 hours of travel!  Whew!  Here is a photo of an exhausted but triumphant Kathy, meeting Nick DeKoning.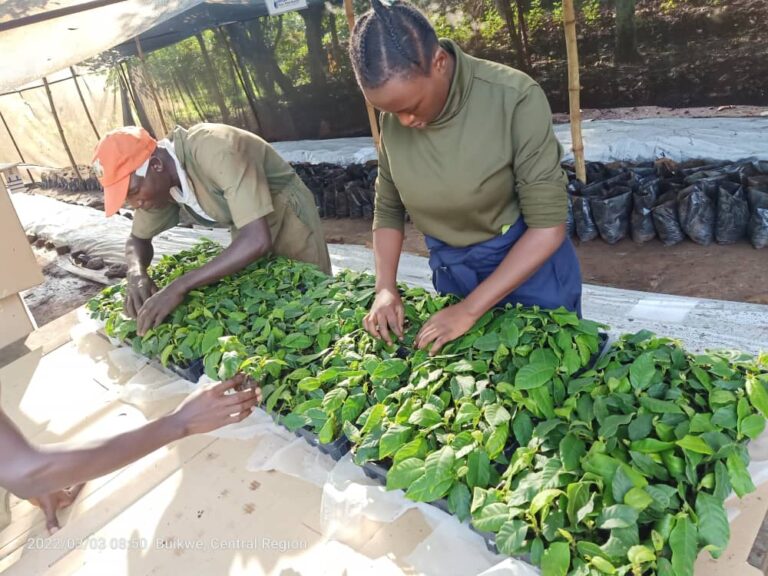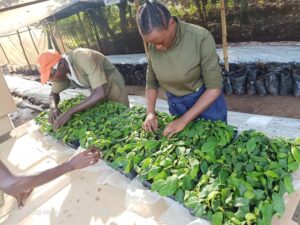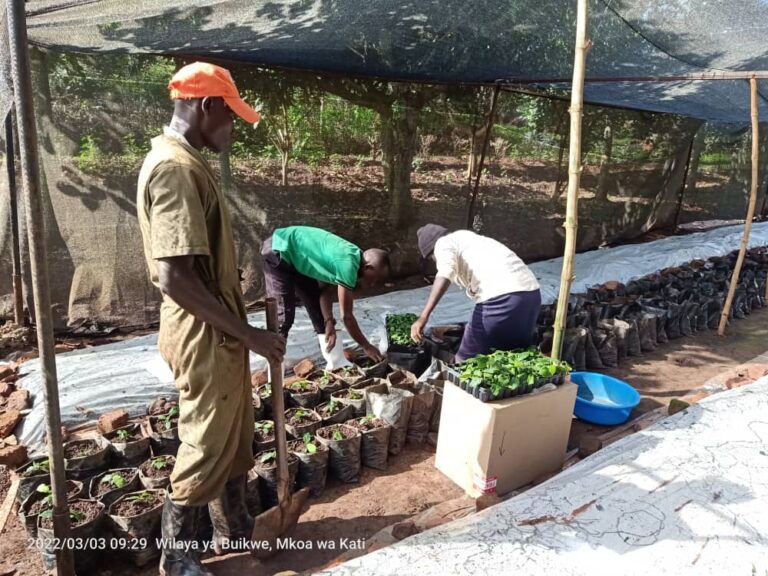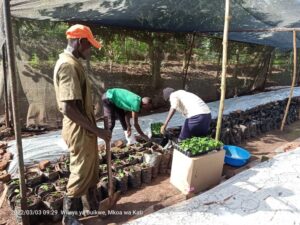 All the plants have survived and are being repotted and hardened, before going out to farmers in the area.
Nick is another one of our heroes! He runs Our Trees Our Future, a tree planting initiative working with local farmers to help alleviate poverty sustainably while promoting environmental stewardship.  Nick's mission is virtually identical to Trees That Feed, planting fruit trees to feed people, create jobs and benefit the environment.
The value of Kathy's courier service is immense. TTFF regularly ships trees from our partner nursery in California. The logistics are nightmarish though. Tree type, size, readiness, flights, inspections, import permits, all make each shipment a complex logistical Rubik's Cube. Having a volunteer trudge through airports' luggage carousels gets the plants to arrive faster and more reliably. Incredibly using a courier can save money too!
Our thanks go to Kathy, Nick and Karin. Farmers in Uganda also thank them!  And we thank you, our donors … without you none of this could happen.