Tree Donations
We provide food-bearing trees!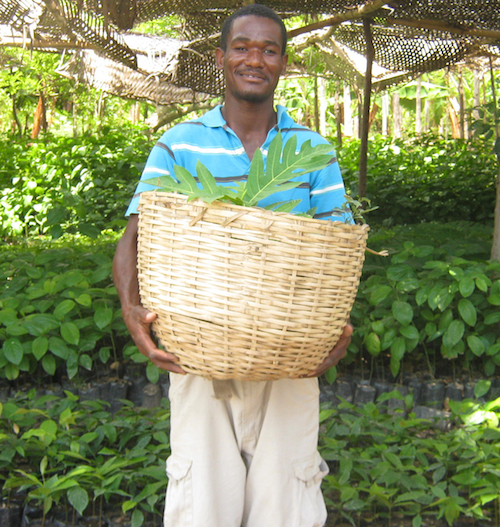 Trees That Feed Foundation's main goal is providing food-bearing trees.  We hope to provide 1,000,000 trees in 10 years.  We are well on the way, with over 130,000 provided to date. We use funding to secure seedlings and donate them. Cultivaris/Global Breadfruit Inc. has been an excellent source for Ma'afala and other tree varieties, propagated in large quantities by a tissue culture process in the U.S. We also prioritize purchasing trees locally, as we are strongly encourage employment in the countries we are supporting.  A number of local suppliers in Jamaica and Haiti have provided tens of thousands of trees for us.  These suppliers are relatively small businesses, but they are expanding operations.  Support from donors helps to directly enterprise suppliers.
Our most commonly distributed tree is the breadfruit, but we have provided many other kinds of food-bearing trees, including cashew, mango, moringa, fig, guava, pomegranate and more.
When the trees are well established (at least one or two feet tall), TTFF distributes them to individuals, farmers and community groups.  TTFF prioritizes quality over quantity with tree distributions. We donate trees – not sell them.  We perform a screen to ensure that the recipient will know how to care for the trees, and that the trees are suitable and beneficial for the location.
We can report that our tree donations have been gratefully and enthusiastically received.  The first trees donated in 2009 are now over 15 feet tall!  They are producing fruit abundantly.
$15.00 covers the costs of providing a food-bearing tree that will feed a family for decades.