Monitoring
Following up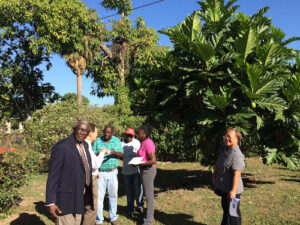 When we donate trees we ask for periodic reports and photos.  We want to be sure that the trees are being well cared for, and that they will live to produce abundant food.
We go further.  With the help of volunteers, we visit locations where the trees are planted.   We must mention the students from University of Minnesota, who for the last 3 years have visited Jamaica to help monitor progress.  For the most part, we can report excellent results.  Over 75 percent of the trees planted are alive and well.  The best farmers have 99  percent success.
We are also in the process of geo-tagging tree orchards.  It's easier than you might think!  Photographs taken with most modern cameras or smartphones include GPS location information, embedded as meta-tagged information in the picture file.  Years later, we can find that same exact tree, within 10 feet, using the JPG photo file!
We think that our donors expect us to use funds wisely, and we take that duty very seriously.   Help us with your continued support.