Testimonials
We think we're doing the right things here at TTFF … giving a hand up, not a handout.  We think so because we receive expressions of thanks and appreciation.  Here are a few of the  unsolicited notes we've received …
Thanks from Effort Vision
Dear Mike & Mary – What a blessing it has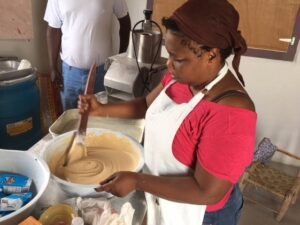 been to be able to have the connection of your organization and to be able to join hands in the breadfruit journey.  We just returned from Haiti and were able to see first hand all that is being carried out.  And also, the changes and updates of equipment etc. that need to be made.  James has many aspirations of what could take place in the future.
First, I will give you a little better idea of what they are doing in Haiti.  Two and sometimes three of the women that are working with James prepare banana cake (they have also come up with a recipe of their own "rum cake") at least 3-4 times a week.  They earn US$6.00 per cake.  The breadfruit is providing so much—nutritious food processed right in Haiti along with income for the Haitians that prepare it.
Thank you again for all that you do!
John & Dawn Ashford
Effort Vision, Haiti
From Sydney Pagon Agricultural School, St. Elizabeth, Jamaica:
"Good evening. My name is Ms Thompson, Home Eco teacher. I figured I would share some pictures of the students preparing fruits to make variety of products.
They dried Pineapple, apple, naseberry this will be used to make a fruit medley for a competition Thursday. They also dried sweet potato to make a cereal mix and breadfruit to get flour to do a snackable bar. The solar dryer is a blessing to our school"