Hurricane Matthew smashed into Haiti's Southern peninsula on October 4, 2016, with 145 mph winds and 20 inches of rain, or more.  The town of Jeremie was particularly hard hit.  There was widespread devastation.  Water wells were flooded with salty or muddy water.  Nearly all trees in the area were blown over.  Ninety percent of local buildings were severely damaged if not knocked down completely.  The photos show the damage, but you don't fully appreciate it until you hear the weeping of local residents.   The storm came at a particularly bad time for crops, which were very near to harvest time.
TTFF is not mainly geared at emergency relief. We tend to focus longer term and on self sufficiency. Regardless, we are pitching in.  We worked with Jody Weschler of St Francis Xavier parish in Wilmette to send 10,000 water purification tablets to Haiti.  They are on a truck bound for Jeremie tonight.   Our volunteer Ken Banks has located 1,000 seeds for vegetable plants that will grow quickly to supply food locally.  We're working with John Baynes of Effort Vision in Montrouis and Timote Georges of Smallholder Farmers Alliance in Gonaives, to get seeds and small saplings down to Pierre-moise Louis in Jeremie, to begin rebuilding his nursery business.  We're funding the purchase of shade cloth, grow bags and other accessories, to assist.   Dr Megan Coffee has offered space on her truck. Eric Helgemo, CEO of Three Angels Childrens Relief in Port au Prince, is assisting in the cleanup effort and taking a truckload of tools and other supplies.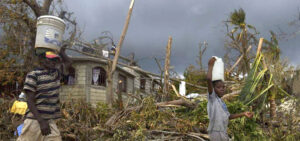 We conferenced with the Clinton Foundation in a call that included Heifer and other large organizations, to pool resources such as trucks making the relief trek. They're traveling from Port au Prince, which was much less affected, to Les Cayes, Les Anglais, Jeremie and other towns.   We're trying to help coordinate.
One interesting fact: many of the large lovely trees that were knocked over may possibly be saved.  Local agronomists are already working to remove dead branches and prevent mould and decay, to give the trees a chance to spring up from the roots or trunk.   Young Haitians are helping each other, and not just waiting for help from abroad!
Those are the immediate activities.   Longer term, we are pledged to replace the thousands of breadfruit trees planted in the area. We will also continue to buy and distribute breadfruit porridge and other food products to local schools and orphanages.   We will help Haitians to help themselves.
We have already received generous support from many of our donors.  On behalf of Haiti, Thank you.  Any assistance provided of course is hugely appreciated.